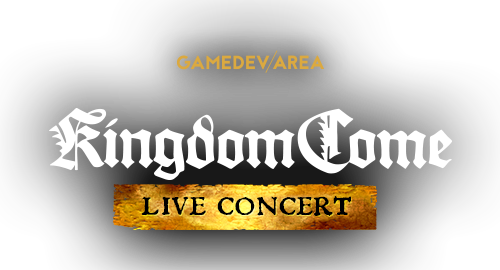 6 APRIL 2023
Prague, Czech Republic · O2 universum
Original music from Kingdom Come: Deliverance
played by Brno Philharmonic
Kingdom Come Live
> Orchestral Concert
Useful information
Entry from: 18:00
Concert beginning: 19:00
Concert duration: 100 minutes
About the event
Experience the unique atmosphere of medieval Czechia. The untouched nature, the walls of grand castles and the glorious majesty of their rulers, but also the blood, dirt and stench. Clashes of swords and the cries of their victims, left in the wake of a bloody uprising against the rule of Sigismund of Luxembourg, keep ringing in your head, and it calls for vengeance and justice. A dark destiny, a cold sorrow and adrenaline pumping through the veins, underlined by an unforgettable musical experience.
Kingdom Come: Deliverance is without a doubt one of the most ambitious pieces of Czech culture. Creating a medieval RPG, set in the 15th century Czech lands, with a heavy emphasis on realism, both in combat and the social conditions of this historical period, was no easy task. Yet Warhorse Studios succeeded in their ambitions, selling more than a million copies within the first week, and their game continues reaping critical acclaim to this day.
A key element of this success was undoubtedly the soundtrack, composed by the incredible Jan Valta and Adam Sporka. The musical score, recorded by a symphonic orchestra in Prague's Rudolfinum, is capable of quickly adapting to the rhythm of the game, and this concert will be no exception.
Conducted by Jan Valta, the Brno Philharmonic orchestra has prepared an incredible show under the roof of O2 universum, underlined by scenes from the game itself. Vocally accompanying the orchestra will be the lovely and talented Masaryk University Choir. Last but not least, there will be Bakchus, a quartet of bubbly troubadours, further amplifying the medieval atmosphere through their beautiful performance.
Come enjoy this incredible piece of history come alive.
Setlist
Warhorse Logo
Skalitz 1403
Feasts of Rattay
Talmberg
Fist Fight
Return to Skalitz
Till Our Heads Turn White
Landscapes (from OST Atmospheres)
Beer and Women
Undercover & Battle of Pribyslawitz
Sassau (the music of Sassau monastery + river Sassau)
Poverty and Famine
Battle of Talmberg
Things Worth Living For
Jablíčko (Theresa's song from the DLC "A Woman's Lot")
People of the Land
Tickets


This concert is sold out.
FAQ
Will you release a recording after the show?
No, there won't be any recordings, anywhere. As organisers, we feel that an experience like this is best enjoyed live, with your own eyes and ears. Your computer screen wouldn't do it justice.
Secondly, and perhaps more importantly, buying a licence to create such a recording would dramatically increase the cost of the tickets.
So unfortunately, no. Suit up, invite your friends, and come enjoy a great evening!
Can I make audiovisual records?
No, the creation of any records without the organisers' approval is strictly prohibited.
What if the Covid-19 situation worsens?
We are monitoring the Covid-19 pandemic very closely. If something drastic were to happen, and the concert could not be performed on the original date, do not worry. We will quickly come up with a solution and a new date.
Can I bring a prop weapon to the concert?
We understand that medieval weapons are inseparable from the atmosphere of Kingdom Come: Deliverance. However, we highly recommend that you leave your prop weapons at home, not only for our sake, but especially for the peace of mind of the other attendees...and the police.
And obviously, real weapons are definitely forbidden!